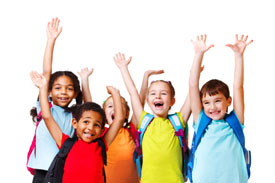 It's summertime, and for parents, that means children who are out playing with the neighbor kids, riding bikes, heading to the pool and enjoying the dog days of the sunny season.
More freedom for the kids, though, means that Mom and Dad can have a tough time keeping an eye on everything they're doing. Though this separation can be healthy, it might also mean slips, falls, tumbles and fights that your child doesn't tell you about. Even the smallest traumas and injuries can mean trouble later on in the school year, affecting their well-being as they get back into their sports.
Take Control of Your Family's Health
It's never too early to look into the future and take a proactive approach for the health of your children. You can begin today on preparing for your child's upcoming football, baseball or soccer season. If they don't play sports, chiropractic care can still help them achieve their highest potential.
When your child has an injury, it affects their body's neurological system. Dr. Evan utilizes a highly precise technique that reconnects the neurological system, allowing their innate abilities to take over and heal. Once the problem is addressed, chiropractic care can help them achieve their peak capacity to grow, develop and thrive.
Book a Complimentary Consultation for Your Child
Dr. Evan has seen athletes of all levels experiencing a range of problems, assisting them in recovering their health. Football players with neck pain were back on the field in a month; basketball players who were sidelined due to back pain were playing better than ever after two months, and much, much more.
Take that proactive step and ensure that your child won't have to sit out on doing what they love and keep cheering them on in the stands all year long. Contact Advantage Chiropractic today!