We don't know about you, but at Advantage Chiropractic we're still in the Valentine's Day mood…that's because love is important every day of the year!
Take Care of Yourself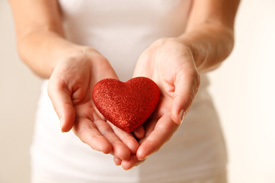 At our practice, we love helping patients take care of themselves. Your body is the only body you have for the rest of your life, so why not invest in it, take care of it, and treat it with love. Chiropractic care relates to this in many ways, starting from within—taking care of the central nervous system (your body's master control system). If you take care of your body internally, it will show in other areas of your life.
You could enjoy the following benefits:
Improved digestion
Alleviation of pain
Enhanced sleep
Greater energy
Build Some "Me Time" Into Your Day
Another way to love yourself is by taking time out to do something you enjoy each day. Between work-related pressures and family demands, you might find it challenging to carve out time for yourself. It's important to do so though. That's because nurturing yourself can reduce stress and increase self-esteem.
Taking time for yourself could include reading, taking a bubble bath, going for a walk in nature, journaling or meditating. It's also essential to rest. Do nothing. Just be.
Engage in Positive Self-Talk
You likely affirm others by communicating kind words to them. Why not do the same to yourself? Positive expressions such as "I am a kind person," "I'm a hard worker," or "I'm a good friend to others" can help to boost self-esteem. On the flip side, negative self-talk can decrease your self-esteem. Refuse to practice it.
Extend That Love to Others
When you love and nurture yourself, you'll be more inclined to offer love to others. Enjoy practicing random acts of kindness. Demonstrating love could take the form of doing yard work for an elderly relative, bringing morning coffee to your spouse, or volunteering at the homeless shelter.
We look forward to helping you take of yourself so you can pass on that love to others!