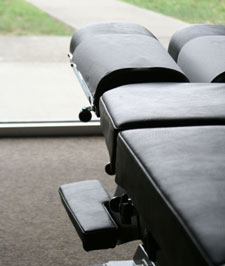 You probably have good intentions about improving your health in the New Year. In addition to limiting sweet treats and other pound-packing goodies, you likely will aim to ramp up your fitness goals.
It's no surprise that January is the busiest time for gyms when people are trying to shed the weight they put on during the holidays. While daily exercise is essential to overall good health, the chiropractic adjustment is as well.
The Natural Benefits of Getting Adjusted
If you haven't tried chiropractic yet, it could be a piece of your health that you've been missing. An adjustment is simple yet remarkably effective. Did you know that regular chiropractic adjustments can boost your immune system by an astounding 200 percent? Here are some other health benefits of being adjusted:
Enhances posture
Improves coordination
Relieves stress and tension
Provides relief from pain and an array of conditions
Improves concentration
Enhances sleep
Enjoy Working Out With Greater Function
Whether you like to run, bike, swim or CrossFit, chiropractic can allow your body to function at its peak so you can work out and enjoy all of the associated health benefits. If you do happen to get hurt while at the gym or on the court or field, chiropractic can reduce your recovery period.
Make getting regular chiropractic adjustments part of your New Year's resolution. We're confident that you'll feel the difference that this safe, effective and natural form of health care can make when it comes to your well-being.
Schedule your appointment today!