Chiropractic Care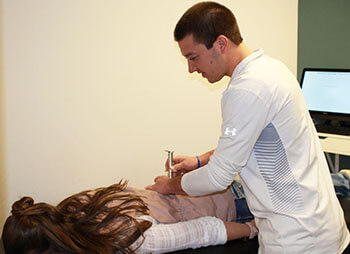 People of all ages can experience the incredible benefits of chiropractic. From children who have colic, latching difficulties, heartburn and sleeping issues to seniors who want to maintain their health, everyone is welcome at Advantage Chiropractic.
Our doctors also see many high school students who participate in sports and want to hit their personal best. Athletes of all levels can improve their performance when they have optimal health. Additionally, migraines and headaches are a particular area of concentration. Others are in chronic pain, while many are simply seeking to continue being well. The greatest part of chiropractic care is that it has something to offer everyone.
Individualized Care Plans
With our neurologically based chiropractic techniques, we treat each person differently. Your adjustments will be different each time, depending on what your body tells us it needs. We use a variety of testing, like analyzing your breathing patterns and leg lengths to determine what you require, listening to your body so that you can heal quickly.
Since your care is personalized, your treatment plan will be, too. Some people have frequent visits when beginning care to start regaining their health. Others who are on a wellness journey might see their doctor once a week or every other week. Our youngest practice members, children and babies, might come in just once a month or every other month to stay in fantastic health and continue to improve.
A Different Approach
Our doctors utilize Torque Release Technique®, which is unlike the traditional chiropractic techniques. If you have been to a chiropractor without reaching the goals you hoped to achieve, or you began to plateau, this may be the perfect method for you to start to see results.
There is no twisting or popping involved. It's noninvasive and uses a specific tool. You'll be in capable hands, with no uncomfortable positions or strange sounds involved.
Frequently Asked Questions
Do you see practice members of all ages?
Yes, from newborns to seniors and every age in between, people of all ages can benefit from our natural care.
Yes. We take X-rays if necessary. The digital X-ray machine that we use is top of the line. It allows us to take 4-view motion study X-rays.
No, not at all. We use Torque Release Technique® (TRT). This neurologically based method uses an instrument. You won't experience any cracking or popping during the assessment. There is no pain during the adjustment.
Do you accept health insurance?
Yes. We work with all major insurances.
Do you work with auto or personal injury cases?
Yes, our chiropractors have extensive training in handling personal injury and auto accident cases. In addition to what they learned in chiropractic college, our doctors have taken many hours of continuing education.
One of the reasons why they chose to focus on treating auto accident and personal injuries is even a low-speed fender bender can lead to tremendous problems within the spine. So even if you think you're fine after such an incident you could experience many problems in the future if you don't get checked.
Before I start care, will I know how much it will cost and how long it will take?
Yes, during the report of findings visit, we'll sit down and go over everything before you start care. You'll know exactly what the corrective care plan is, how much it's going to cost, how much insurance is going to cover, what the timeline looks like, etc. It's a very transparent process so there are no surprises.
Yes, this type of care is more proactive or preventative care. The reason we offer wellness plans is that one of our biggest goals is to bring wellness to as many people as we possibly can within the community. We want our practice members to enjoy optimal health and wellness. Our ultimate goal is to keep people healthy and functioning properly throughout their life.
Contact Us Today
If you're ready to get started, contact our New Berlin office today! We accept most insurance plans and offer a complimentary benefits check on your first visit.

Chiropractic Care | (262) 505-5610